Integrating New Audiences
Find this page at:
go.ncsu.edu/readext?311068
The demographics of North Carolina have changed significantly during the last two decades. Although the general public may believe this change is a result of the influx of immigrants moving to the state, this is not the case. The "new" North Carolinians, as this group has been collectively called, includes more than immigrants. The "new" North Carolinians may be categorized in four groups: 1) Those who were born and live in the state [born and bred]; 2) Those who were born in another state and now live in North Carolina [Domestic import]; 3) Those who were born in another Country and now live in North Carolina [immigrant]; 4) Those who were born in North Carolina but live elsewhere [domestic export].[1] Consequently, when talking about target audiences for Extension educational programs all "new" North Carolinians are to be included. But for the purpose of this article, the focus will be on Latino/Hispanic audiences who can be part of any of the "new" North Carolinians categories.[2] The Latino population in the state has grown from 378,963 or 4.7% in 2000 to 800,120 or 8.4% in 2010. This growth made Latinos/Hispanics account for 25% of North Carolina's population increase over the past 20 years. The percentage of Whites decreased from 73.1% in 2000 to 68.5% in 2010 while the percentage of Blacks or African American has not had a significant change, 21.6% in 2000 compare to 21.5% in 2010. The percentage of other groups (e.g. Asians) has increased from 0.6% in 2000 to 1.6% in 2010.[3] Two other factors are to be considered when referring to the growth of the Latino population in the state, 1) the growth is now driven by the birth of first and second generations of Latinos immigrants, and 2) the median age of North Carolina's Latinos is 23. [4] The data leads us to believe this growth will continue. The challenges Latinos face are an important piece to contextualize them in North Carolina. In 2010, 33.9% of Latinos/Hispanics lived below the poverty level, compared to 11.8% of Whites and 27.7% of Blacks/African Americans. Further, 30.7% of Latinos/Hispanics lack health insurance, compared to 11.7% of Whites and 20.8% of Blacks/African. American [5] In light of this information, integrating Latinos into the educational programs NCCES offers is an opportunity to contribute to the wellbeing of the Latino Community with a direct positive impact on the state and the country. N.C. Cooperative Extension System (NCCES) has made important efforts in engagement with Latinos audiences as data from the Extension Reporting System (ERS) reveals: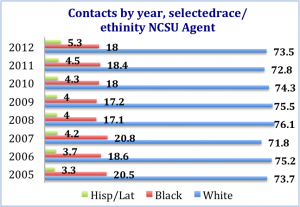 The fact that more Latinos are participating in NCCES is commendable. However, the efforts do not match population growth. There is a need to be more intentional in targeting Latino audiences. This will complement Latino engagement in programs offered in existing diverse groups, i.e. school classrooms. What is needed to engage with Latino audiences? In general, people will answer this question focusing on language barriers; in other words, the short answer will be to "speak Spanish." However, data shows that a growing share of Latinos are choosing to speak English in the home.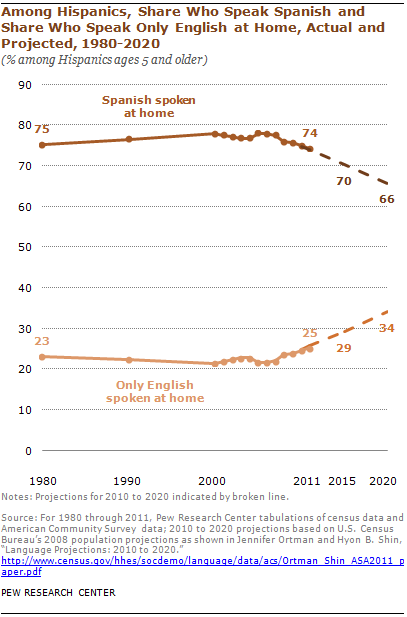 Description: spanish-at-home.png This idea is reinforced by the fact that the median age of Latinos born in the state is 9, thus, those children are attending schools and speaking English. In some cases English is actually their first language. Having said that, it is also important to recognize that language differences continue to be a barrier to engage with first generation Latino adults and those who may be more in need of Extension programs, e.g. low formal education. The option, in those cases, is to partner with those who are bilingual who can be interpreters but also become active partners in connecting with Latino audiences. Although language and culture barriers may be considered as the main challenges in engaging with Latinos, the attention should be on building a trusting relationship with this new audience. This process includes among others: learning about culture differences, their assets and challenges, determine which educational programs are a priority for them, establish a presence in their community, etc. Being consistent and persistent are key ingredients when building a relationship with a new audience. In the case of Latinos, it is necessary to take in consideration that Latinos are not looking for a handout but for a handshake.[6] Which educational programs offered by NCCES are of most interest to the Latino community of North Carolina? Because the answer to the question should come from the Latinos, NCCES conducted a Latino community survey during the summer of 2012. A convenience sample of 584 Hispanics from 76 counties completed the survey. [7] The programs identified as preferences fit into four categories: healthy lifestyle, preparing for disasters and emergencies, programs for youth, and financial management. The chart below shows the top preferences for the respondents.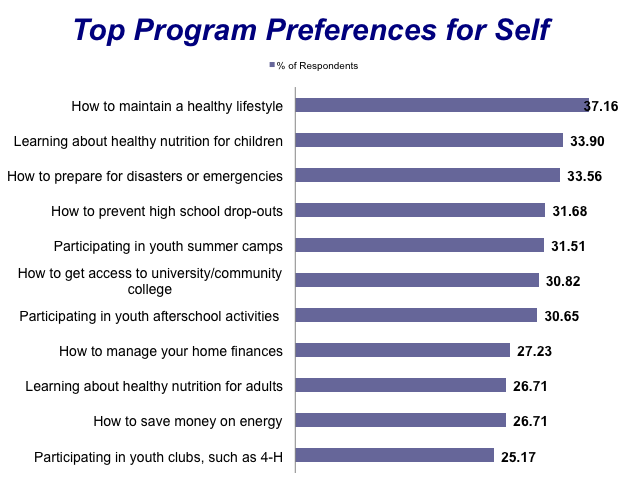 The survey also identified ways to increase Latino community members' participation in Extension programs. In regard to how respondents learn about what goes on their community, word of mouth rank number one, the second most common source of information was Spanish newspapers, followed by church, and TV/cable. Local schools, churches, community centers, Extension Center, the health department and Community Colleges were identified as the best places to attend programs. Weekday evenings are the preferred time for attending programs. The main barrier to participation is work schedule, which reinforces the need for evening programs. The reason cited second for not attending programs was lack of information about NCCE programs, which reinforces the need for Extension to become more visible within the Latino community and strengthen marketing strategies. Lack of childcare, limited English language skills, and the times when programs are offered were also identified barriers. Only 2.75% of respondents cited lack of interest as a barrier to participation. In addition to NCCES educational programs and resources available for any audience, Extension has developed programs and resources specifically for Latinos e.g. Together/Juntos for a Better Education Program, Better Food, Better Health Program, Latino Leadership Program, and the Pesticide Safety Toolkit. Latinos, as part of the "new" North Carolinians, are in need of empowerment, education, and opportunities. NCCES can be an open door for them. It is not about becoming a Latino or Spanish Extension but about continue building capacity to make Latinos an Extension audience. [1] Stephen J. Appold and James H. Johnson, Jr. (2014) The New North Carolinians. The Economic Impact of the Hispanic Population on the State Of North Carolina: An Update and Extension [Preliminary Draft], Kenan Institute of Private Enterprise, The University of North Carolina at Chapel Hill. [2] The terms "Latino" and "Hispanic" are used interchangeably in this article. Latinos are an ethnic group and can be of any race. [3] Gabriela Zabala and Steven Mann. (2011) Demographic Trends Of Hispanics/Latinos in North Carolina, Office of the Governor, Raleigh, NC [4] Pew Research Center, Analysis of the 2011 American Community Survey. [5] U.S. Bureau of Census (2010) [6] Sixth Annual Hispanic Market Advantage Conference. (2007). Durham, NC. [7]Cintia, Aguilar and Brandie Leach. (2012). Latino/Hispanic Community Survey: A Project of North Carolina Cooperative Extension, NCSU, Raleigh, NC.