Community Resilience Tools
Find this page at:
go.ncsu.edu/readext?773846
en Español

El inglés es el idioma de control de esta página. En la medida en que haya algún conflicto entre la traducción al inglés y la traducción, el inglés prevalece.

Al hacer clic en el enlace de traducción se activa un servicio de traducción gratuito para convertir la página al español. Al igual que con cualquier traducción por Internet, la conversión no es sensible al contexto y puede que no traduzca el texto en su significado original. NC State Extension no garantiza la exactitud del texto traducido. Por favor, tenga en cuenta que algunas aplicaciones y/o servicios pueden no funcionar como se espera cuando se traducen.

English is the controlling language of this page. To the extent there is any conflict between the English text and the translation, English controls.

Clicking on the translation link activates a free translation service to convert the page to Spanish. As with any Internet translation, the conversion is not context-sensitive and may not translate the text to its original meaning. NC State Extension does not guarantee the accuracy of the translated text. Please note that some applications and/or services may not function as expected when translated.

Collapse ▲
The same tools that build resilience at an individual level can make a community stronger as well. By focusing on building connections, supporting individual citizen wellness, setting community-led goals that nurture individual aspirations, and planning for change, communities can re-emerge from tragedy stronger and more connected, thus strengthening their resilience to the next crisis that will surely come.
Building Connections
At an individual level, building connections means taking the time to nurture the relationships that we already have while also making new friends. Making new friends means becoming more socially active by joining a group of people who hold similar beliefs or enjoy similar pastime activities.
Public Spaces that Inspire
A community can strengthen its citizen connections by creating more spaces for people to mingle and gather. This is especially important for certain ethnicities who are accustomed to public squares and markets to pass the time and greet friends and neighbors. Parks, playgrounds, farmers markets, festivals, cultural centers like museums, theaters, sports arenas, libraries, and natural attractions like hiking trails, rivers, lakes, and beaches are all types of government run or supported public gathering spaces.
Third Places
So-called "third places" (the place where one goes when wanting to be away from home and away from work) are typically supported and/or created by both nonprofit and private enterprises. Third places include places of worship, coffee shops, cafes, pubs, clubs, recreational facilities, gyms, galleries, and other cultural attractions. Wherever people gather, feel comfortable, and converse with their friends, qualifies as a third place. Unfortunately these third places have been especially hard hit by restrictions put in place by governments to protect the public from the current pandemic's spread of infection, and as a consequence, people have more and more turned to internet chat rooms to find that necessary third place connection – sometimes to disastrous effect.
Community Actions Supporting Connection
How do communities support the creation of third places? Most third places, especially in rural communities, are small business enterprises. Supporting small business means having readily accessible resources to guide and strengthen these businesses as well as respond to their needs. While arguably the most important role chambers play in building connections is hosting social networking events where business owners and professionals, young and old, can mix and mingle, active and effective chambers also offer trainings on business planning, marketing, display and design, finances, human resource management, online marketplaces, and equally as important, community giving campaigns. These resources are typically available through small business development centers (often part of the local community college) which receive support from public coffers. In addition, chambers should include local non-profits in their membership and encourage the business community to donate to their missions.
Communities, through government grants, community foundations, and even neighborhood investing circles, can also support small businesses through incentive programs, like sign and façade improvements, sidewalk expansions, pop-up storefronts, and other welcoming measures that create quality places. The First Impressions program is a great way to discover what others think of a community's amentities.
Public access to community wi-fi hotspots is another 21st-century connection necessity. More and more, restaurants, shopping centers, libraries, and other public spaces offer free wi-fi. Business owners who offer this customer benefit sometimes second-guess their decision because it invites folks to linger, rather than shop. Consequently, businesses may condition this access on an in-store purchase. Consumers should also be wary of public hotspots because of the greater security and privacy concerns. Nonetheless, the more the internet is accessible to the public, the more connected people feel. Click for a list of providers offering limited free internet service during the pandemic.
RESOURCES:
Supporting Individual Wellness
The second characteristic of a resilient community is the availability of resources that support individual citizen wellness. Communities that offer public green spaces where people can walk, bike, run, and play tend to have healthier citizens. Since the 19th century, cities have intentionally incorporated greenspace into their master urban plans because studies have shown that "individuals have less mental distress, less anxiety and depression, greater wellbeing and healthier cortisol profiles when living in urban areas with more greenspace compared with less greenspace."
While breathing fresh air and moving more are key to an individual's overall physical and mental health, so is eating healthy food. Efforts to enhance local food system development, when given adequate financial and marketing support, can result in surprising ripple effects – farm to table restaurants, downtown farmers markets, artisan bakeries, and other small-scale food manufacturing businesses located in the core business district frequently lead to higher pedestrian and vehicular traffic and sometimes anchor city streetscaping efforts.
Impact of N.C. Cooperative Extension's Local Food Programming on Downtown Redevelopment 
Community Actions Supporting Individual Wellness
North Carolina's Eat Smart/Move More initiative has a great list of actions communities can follow to improve the health of their citizens. Among them are recommendations for employers on managing a healthy work environment.
What Businesses Can Do
In addition to the above-identified measures for improving individual mental and physical well-being at home, in the community, and at the workplace, there is another important 21st-century trend emerging among employers and business owners. While the concept of the "agile business" existed before the pandemic, the economic and financial crises precipitated by COVID-19 in the United States have triggered an acceleration in decision-making processes and necessitated sudden pivots in business models. The quick transition of restaurants to curbside pickups, the jump from in-store to online shopping, the retooling of factories to manufacture PPE, and even the delivery of prized vaccine vials to mass vaccination sites are all examples of agility within the business (and public) sector.
A critical characteristic of an agile business leader is the ability to switch off the mindset of total attention to operations management and turn on a greater sense of responsibility towards talent management. Research has shown that by listening more to their employees and empowering them individually, or in small teams, to participate in critical decision-making, employers add value to their businesses by unleashing 20-40% more employee productivity. Decentralizing decision-making and allowing teams of workers to "make things happen" leads to happier and more innovative workers.
RESOURCES:
The Five Trademarks of Agile Organizations
Finding Purpose
The third characteristic of a resilient community is its engagement in purposeful actions to improve the well being of its citizens. At an individual level, it is critical to have a sense of purpose if one ever hopes to find happiness. Whether that purpose is providing for family or for self, or achieving a high degree of job satisfaction, feeling like you matter is especially empowering to the individual.
But what does it mean for a community to have purpose? Cities and communities of all sizes are charged with meeting basic human needs – food, shelter, a safe place to live, work, and play, healthcare, and education, among others. Typically local government will provide the most basic infrastructure to meet those needs – streets, sanitation, police, schools, hospitals, and for the less affluent, housing and food as well. Most job creation is left to the private sector, but workforce development programs are publicly funded.
In addition to providing for the basic infrastructure described above, access to broadband has become one of the highest priorities of the 21st century for every community across the nation.
Communities find their purpose through their economic development and strategic planning efforts. At NC State Extension we subscribe to the principles of Community Economic Development (CED). CED is a field of study that actively elicits community involvement when working with government and private sector to build strong communities, industries, and markets. CED is a multifaceted comprehensive approach to community change that is not limited to just poverty programs, nor is it synonymous with industrial recruitment. Community Economic Development:
Encourages using local resources;
Improves social conditions in a sustainable way; and
Often builds social enterprises that address problems facing communities in a holistic and participatory manner.
Using the model below, communities can understand the value that different societal and political segments have in building a dynamic whole community. While industrial recruitment, the go-to strategy for traditional economic development, plays a major role in a community's prosperity, it should not be the only tool in the economic development toolkit. The skills built through leadership training sessions and community visionings (such as the ones offered through Extension) provide a strong foundation for the implementation of other effective strategies of community economic development.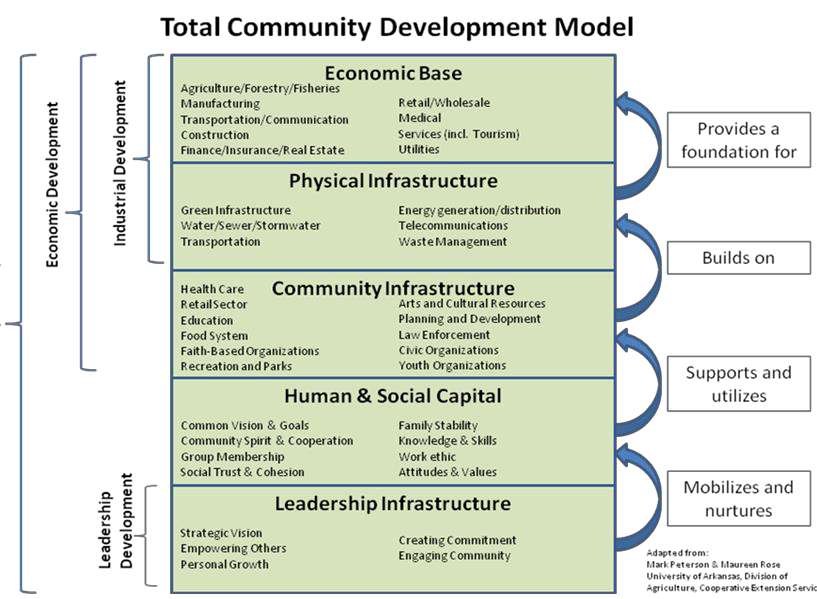 RESOURCES:  Logic Model Template
A major stumbling block of strategic planning processes is in the plan's implementation phase. Overcoming that obstacle is the final characteristic of a resilient community.
Planning for Change
In addition to engaging in a regularly updated strategic planning process (every 3-5 years), resilient communities also understand that life is not static, but constantly changing. Like agile businesses, communities must accept that crises, natural, economic, social, and public health, will occur, and that they must prepare for those eventualities. In addition, resilient communities understand that the work of change does not end upon the completion of a planning process.
How Good Governance Results in Effective Change-Making
One of the primary obstacles to getting real results from a strategic planning process is a lack of accountability and responsibility once the planning is done. Without effective task delegation and ongoing monitoring of progress, economic development plans often end up on shelves gathering dust. The burdensome reality of everyday life pushes new programs and products to the bottom of the priority list. So, how do communities keep everything on track?
Big community challenges, including the chronic issues of poverty, crime, inadequate housing, drug addiction, and unqualified workforce, as well as the hopelessness and despair brought on by natural, economic, and public health disasters,  demand complex decision-making skills and processes. No single government agency, or even cross-agency government coalitions, can manage the response needed to address these large and incredibly thorny issues. Big community challenges require participation from a cross-section of society – local, state, and federal government (including economic development, K-12, higher education, law enforcement, public health, social services, disaster services, etc.), private businesses, philanthropy, nonprofits, and community representatives all working together. Collaboratives like these share resources, programming, and knowledge with each other, and coordinate their problem-solving efforts. Collective Impact and Community Coalition Action Theory are models of collaboration that contemplate common agendas, mutual measures of progress, and continuous communication, and no single organization, even the "lead" or "backbone" organization is charged with the task of completing all plan activities. Rather, each member or committees of members of the collaborative agree to undertake a variety of tasks detailed in the plan, and report their progress back to the collaborative on a regular basis.
Leadership
Just like having an escape plan for your family in the event of a fire, businesses must think ahead about the possible impacts a natural, public health, or economic disaster could have on their ability to operate. Remember how retailers were caught flat-footed when the pandemic-related lockdowns forced people to stay home and consumer toilet paper supplies became critically low? No one wants to repeat that scenario.
The International Economic Development Council has published a powerful toolkit entitled Leadership in Times of Crisis. The key action all resilient communities must take is to prepare now for the inevitable disaster down the road. Just like the Disaster Preparedness Plans now in place in most American communities for natural disasters, resilient communities must also prepare for other types of disasters.
This resource also states that it "is critical that local officials work with their emergency management community and hazard mitigation planners to better define their risks and assets. While many incidents may be relatively rare in frequency, their impact on a community can last for generations. For these reasons, it is critical that economic developers and other local officials to engage in pre-disaster recovery planning."
The first step in disaster preparedness planning is to establish a command and control center for business recovery. This center,  and the agency who will lead it, should be designated before a disaster strikes, but the recovery effort will involve the commitment of many different stakeholders. The business recovery center will undertake the following planning steps:
Gather resources for all technical and financial resources and keep them up to date on a designated web site. Every region should also have access to a revolving loan fund specifically targeting local business needs as well as organize a consortium of local banks to determine lending availability and accessibility in the event of a disaster.
Select a physical space that is centrally located and easily accessible.
Identify resources that can increase capacity at the time of the disaster.
Set up a hotline specifically for business recovery, separate and apart from other disaster resources.
Market the availability of the disaster resources prior to the disaster.
Prepare any necessary paperwork for grant or loan assistance in all languages common to the region.
Prepare for mobile recovery resources.
The OFB-EZ Toolkit recommends that businesses "Think about your employees and what activities they perform on a daily, weekly, monthly, and annual basis. Think about the functions and processes required to run your business in: accounting/finance; production/service delivery; sales/marketing; customer service; human resources; administration; information technology; and purchasing."  The handy checklists provided in the toolkit ensure that businesses are prepared for the inevitable interruptions to operations any type of disaster bring.
RESOURCES:
The first step in disaster preparedness planning is to establish a command and control center.
RESOURCES: