Building Networks and Collaborations
Community economic development often builds networks and collaborations that address problems facing communities in a holistic and participatory way.
Person Reporting: Janine Rywak and Lori Ivey    Location: Anson and Stanly   Date: 2013-06-24
In response to local foods interests and requests from producers, consumers, and advisory groups, Cooperative Extension in the counties of Anson, Montgomery, Richmond, Stanly and Union in NC, along with Chesterfield County SC, have worked with twelve area growers to establish Farm Fresh Ventures Cooperative, a regional food hub serving the six counties.
To gauge interest, a market survey in Anson, Union, Stanly, Richmond, Montgomery and Chesterfield (SC) counties was conducted, revealing that consumers place high value on locally produced food and supporting family farms. Of the 499 responses, 76% revealed an interest in purchasing from a local produce program. In response, Cooperative Extension agents worked over three years with producers to organize the regional CSA, Farm Fresh Ventures Cooperative, an 18-week subscription program of local produce box deliveries, running May through September.
With assistance from NC MarketReady, NC A&T University, RAFI and South Piedmont Community College, Farm Fresh Ventures launched operations in 2013, serving 149 paid subscribers. The group secured $26,441 in grant support, in-kind office and market space from Anson County, and manpower from 52 volunteers. The venture sold $44,000 in subscriptions, paid out $30,858 to growers and gave back $4,043 to county organizations.
Surveys revealed that 83% of participants would return next year. In addition, many subscribers reported health benefits from the weekly boxes of fresh produce, one even reporting, "We cannot wait to see what is in our box each week. We eat only meat about once a week now, and these local fresh vegetables are a very important part of our diet. Farm Fresh Ventures is a great service. I hope participating farmers are benefiting from it too. Thank you for bringing this program to our community."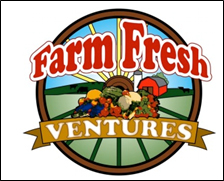 Lessons Learned:  It takes a lot of time, meetings, and taking two steps forward with one back to organize a project like this. However, when the light finally appeared at the end of the tunnel, there was a lot of pride from all parties. Our group basically had to bite the bullet and say, "We are going to do this, no more putting off for the right time and combination of players." 
The greatest satisfaction was in getting producers from neighboring counties at the same table. When they started talking, planning, coming up with recommendations, there was an energy in the room that was unlike one we had experienced. And it was contagious. 
There were some things that we had to do in Extension that I had rather not have, but it took that the first season to get the ball rolling. Going into season two, Extension made it clear that we would be pulling back from certain aspects of the operation, and the producers stepped up to the plate. They took ownership of this project.
We had many partners throughout the project, and it took all of them to pull this off. It also took about $25,000 in start-up funds through grants and in-kind contributions. We cleared enough the first year to have a stash for start-up going into season two.
The marketing that Cooperative Extension has received for being a catalyst of the project cannot be understated. You can't buy the kind of visibility we have had. And once again, Extension is credited for bringing something great to the community.
Farm Fresh Ventures is now selling 2014 subscriptions for Christmas presents. Great idea, huh?
Person Reporting: Carolyn Shepherd     Location: Ashe   Date: 2013-07-15     
The Ashe County Schools staff has stated the need for after school tutoring for students who are struggling academically to be successful. Through collaborative efforts of Ashe County Board of Education, the County of Ashe and the Department of Public Instruction, Cooperative Extension, Ashe County Center has received $1,360,000.00 in the past four years for a tutoring program available in all three elementary schools and the Middle School. Each year over 200 students received tutoring services with over 90% participants improving in one or more academic areas and/or improving attitude and behavior in the classroom.
Lesson learned – The grant will end June 2014 and it will be impossible to sustain the program without the grant. We have so many parents with the inability to pay for these services – many have lost their jobs, and local businesses are tapped out in giving. We have applied twice (3 years each) – after  receiving the money the first time we were told that no one would receive the grant more than once, but here we are – received it twice. 
Person Reporting: Spring Williams -Byrd     Location: Burke   Date: 2012-06-12     
One of the goals of working with Advisory Groups is to have the members become advocates for an organization. In addition, it is also a sign of success when the members create their own sense of urgency and begin to take action. The chair of the Burke County Extension Advisory Council has done just that. She has taken the time to research and learn more about the total Extension program. She has then developed and implemented action plans for the other council members and ways the Extension staff could assist the Council. Because of the involvement and training provided by Burke County Extension, this group has been able to confidently and successfully advocate with commissioners and legislators on Extension's behalf. As a result of their advocacy, every Burke County Extension program area has had an elected official attend a minimum of one event. Creating awareness and support for Extension programs has had a social and economic impact for Burke County.
Lessons Learned:  It is important to keep the Advisory Council well-informed. However, it is also necessary for the Council members to be involved. The more involved and informed this group is,  the better they are able to advocate on Extension's behalf.
 Person Reporting: Traci Dixon     Location: Nash   Date: 2012-12-20     
The future of rural North Carolina resides in the hands of leaders who can bring about positive change in their community, county, and state as a whole. It is important to create and foster the leadership abilities in individuals and community groups. These leaders can then help promote and build quality communities. N.C. Cooperative Extension provided community and leadership development, along with support all year to several Nash County communities through the Extension Community and Rural Development Council. These communities work to establish programs and set goals to enhance the lives of residents.
Cooperative Extension also led them in the planning, preparation, and implementation of their Annual Community and Rural Development banquet. The banquet represented a collaboration of the Council in a setting of achievement and community action. Featured speaker, Representative Angela Bryant challenged the group to continue working toward making a difference in Nash County. In total 150 participants attended for an evening that focused on the importance of working together to make communities better for Nash County residents. Some proceeds from the banquet were donated to United Community Ministries of Rocky Mount, a local organization that has provided emergency shelter and supported families for over 35 years. The council successfully worked together to conduct a county-wide banquet and supported their communities by making a donation to United Community Ministries and a local family.
 Person Reporting: Ross Young     Location: Madison   Date: 2012-12-28     
Food Insecurity Program, high unemployment rates, limited manufacturing jobs and a struggling agricultural system has left Madison County residents facing unprecedented economic challenges. According to Carolina Public Press, one out of five Madison County residents live in poverty. This equates to a legitimate concern about food insecure families; (those unsure about where their next meal is coming from). Madison County Cooperative Extension partnered with the Appalachian Food Shed Project, Local Food Banks, and a non-profit organization called Back Yard Bow Pro to create a system for supplying locally harvested venison, a much needed source of protein, to a partnering food bank. Competitive Bow Target Shoots were held to raise $600 for meat processing fees. This money was used to cover the cost of processing for 16 deer. Because 200 individual meals can be served from a single deer, through the concerted efforts of bow hunters, landowners and food banks, this program supplied the protein for 3200 meals this winter.
Lessons learned: There is a huge need in the food insecure world for protein. Venison is well received by this public as a replacement for ground beef. Food banks love having the ground venison product available for their clients. The challenge is getting enough venison to supply the need. Deer populations in the mountains is not as high as in the rest of NC and hunters typically fill their own freezers first. The photo shows delivery of 200lbs of venison.
Person Reporting: Minnie Mitchell     Location: Cabarrus   Date: 2011-11-18     
In 2011, DSS collaborated with the Cabarrus County Cooperative Extension and its Community and Rural Development Agent, Minnie Mitchell, to address financial concerns by individuals requesting help for crisis financial assistance. 146 people attended a two day, four hour financial budgeting class.
According to the Cabarrus County Department of Social Services 2011 NACO Report, results revealed that 63% have not required additional crisis monies after attending the budgeting classes. There has also been a 38% decrease in people making repeat applications during a twelve-month period compared to the previous year. Additionally, DSS recognized Cabarrus County Extension and its CRD agent before the Board of County Commissioners on July 18, 2011 as a NACO award recipient for collaborative efforts to promote quality efficient and responsive management and administration. The collaborative effort was at a cost savings of $2500 to Cabarrus County government.
Update: 2011-11-18
Basic financial budgeting classes became a requirement for Cabarrus County individuals requesting crisis assistance with the Department of Social Services in 2011. The CRD Agent, Minnie Mitchell conducted the classes by using the NC A&T State University "H" Plan created by Specialist, Dr. Claudette Smith. Two participants required to attend the two-day session were Mr. C, an unemployed plumber and Mrs. D, an elderly woman with one repetitive plumbing issue. By merely disclosing simple information to a group of people, participants were able to get their needs met. Mrs. D. finally repaired a cracked water line and no longer waste $45-$90 per repair visit for an unresolved issue. Mr. C. earned an income of $200 for several hours repairing the pipe. Kathy Mowrer of DSS cited "We unknowingly built a community of support around our families to discuss their needs, have needs met, where it was otherwise going unmet." Cabarrus County DSS received a National award for this program.
 Person Reporting: Greg Traywick     Location: Cleveland    Date: 2011-12-13   
In Cleveland County, N.C. Cooperative Extension partnered with Foothills Farmers' Market and Rotary International to address hunger and food insecurity in the local community. Two programs emerged.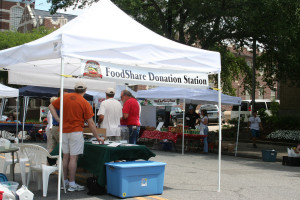 Farmer Foodshare, a volunteer and farmer-led program collects fresh fruits and vegetables at two farmers' markets and distributes them through a network of human services agencies that feed the hungry in the local community. Farmers donated unsold foods at the end of each market day, and shoppers donated money as well as fruits & vegetables purchased at the market. During 2011, the program collected and distributed more than 8,000 pounds of fresh, nutritious food to needy citizens.
The second project, Community Gardenshare engages individuals, families, youth organizations, senior adult groups, civic & garden clubs, school groups, and churches in a hands-on effort to eliminate hunger. Fifteen participants received free, easy-to-grow vegetable plants (tomato, yellow squash, zucchini, cucumber and pepper). They established these plants in their own planting sites (which included raised bed garden, tilled sections of lawn, and large deck/patio containers).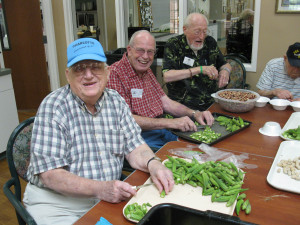 Participants delivered a portion of their harvest to the Uptown Shelby market throughout the season, providing 916 pounds of fresh produce that was used to feed the hungry right here at home. These programs benefit the community by combating food insecurity and ensuring that nothing goes to waste. They also raises awareness that local food should benefit every member of our community – not just those who can afford it.
Lessons Learned – Creating a successful surplus food distribution program requires Extension to develop partnerships with organizations that feed the hungry, to organize and train a cadre of volunteers, and to gain a commitment from farmers. Food insecurity fits squarely into N.C. Cooperative Extension's commitment to local food systems programming and positions us to impact the poor and needy citizens in our local communities.
 Person Reporting: Cameron Lowe     Location: Currituck   Date: 2011-12-22     
In the face of difficult economic times, Currituck County Schools have been forced to reduce staff; cut funding available to teachers for classroom supplies and begin charging classes per mile for school bus use to take field trips. In an effort to enrich the school experience and expand, rather than limit the availability of hands on educational opportunities, Cooperative Extension in Currituck partnered with the Career and Technical Education department and Currituck FFA to offer the first annual Dig into Agriculture Day.
Every third grader in Currituck County traveled to the Cooperative Extension office to interact with agriculture supporting the 3rd grade standard course of study. Students participated in twenty different educational sessions delivered by volunteers and high school students. B y bringing all these resources together, the schools saved over $1300 in travel related expenses. Volunteers donated the equivalent of $1620 in service.
Person Reporting: Kittrane Sanders     Location: Harnett    Date: 2011-12-29     
Success begins once a person has made their mind up to change. While success is measured on an individual basis most of the time, personnel, resources and care goes into that success of any community goal. Community leaders in the Riverside Community collaborated with Harnett County Cooperative Extension to assist in mobilizing for community change.
This community has seen an increase in crime, drugs and youth dropout. With the help of seven community leaders, Cooperative Extension provided workshops to nineteen citizens in the Riverside Community on how to approach issues and concerns gather from data obtain from a community survey. A small community center has been donated to address youth dropout and workforce readiness.
To date seven adults have been trained in construction work, these individuals have the potential to earn $40,000 a year or more. A storage building constructed by them and sold for $1,500.00 will provide revenue for community and economic development projects. Pre and post-test indicated working relationships formed with community organizations/agencies, an increase in capacity building among community leaders, and increase number of volunteers recruited in community coalitions.
Person reporting: Sharon English  Location: Scotland County  Updated 2014-03-05
Scotland County youth experiencing court involvement, school failure, out of home placement and limited resources are considered an exceptionally high-risk group. Specifically, youth with these risk factors have high rates of adult incarceration, substance abuse, early mortality, school dropout, chronic unemployment and poor health outcomes.
 In fall of 2011, Scotland County Cooperative Extension met with a licensed mental health therapist who had developed a clinical pilot program that combined intensive therapy, gardening, and service learning. The target audience was a group of ten male youths, ages 14 – 17, considered Dispositional II, one step away from incarceration, and who had been placed out-of-home, out-of- school and on probation.
 This unique partnership of N.C. Cooperative Extension, NC A&T State University, NC State University, Department of Public Safety, UNC-Pembroke, local agencies, citizens and the faith community is supporting the start-up non-profit, growingchange.org, whose goal is to transform small closed rural prisons into sustainable farms and educational centers. One such former prison is located in Scotland County, in the town of Wagram.
 The primary goal of growingchange.org is to "flip" former prison sites, beginning with the former Wagram prison site, into working farms that provide educational sites for youth to complete court-mandated community service hours and to divert youth from court who are facing problems in school or the community. Additionally, veterans and their families will benefit from hands-on residential internships while completing their degree work. Combining court diversions for youth, residential internships for veterans, school modules, wellness programs, summer camps for underserved youth and recreational trails through 76 acres of agroforestry land, the Wagram site would serve hundreds annually. Also, neighboring UNC-Pembroke plans to field some of its' sustainable agriculture tract at the former prison site. In the fifth year, supported by a working model, growingchange.org plans to send out additional 'Reclamation Teams' to help other communities "flip their prison".
 Initial programing efforts with growingchange.org began in 2012 and included the development of a CSA (Community Supported Agriculture) program that provided fresh vegetables to nine families identified as at- risk for food insecurity. The youth planted, harvested and donated food from the Wagram Community Garden (an NC A&T State University CYFAR-Children Youth and Families At Risk grant sponsored garden), a church community garden and a high tunnel greenhouse at the local high school. The youth surpassed their initial goal of harvesting their combined weight in produce. A total of 1,826 pounds of produce (including watermelon, tomatoes, cantaloupe, squash, zucchini, cucumbers, eggplant, peppers, and herbs) was delivered to the families, with overflow donated to the local food bank and domestic violence shelter. The youth continued to utilize the three sites in 2013 to harvest and donate food. Additionally, the youth added a small flower production in 2012 and included flowers with the food donations. However, in 2013 their flower harvest was enjoyed by our local deer population.
Composting was added to both the Wagram and Laurinburg Community gardens. The building of the three-bin compost systems for the gardens required the youth to engage in the selection, planning and execution of a design. For the majority of the youth, it was the first time they had used tools to build anything. The youth have volunteered to assist with the ongoing maintenance of the bins and gardener compost training at both sites.
 Beekeeping was another area of interest to the growingchange.org youth. After identifying a local beekeeper and attending his workshop on managing an apiary program, the youth decided to approach the Wagram Community Garden members on incorporating bees. Following approval from the gardeners, the youth group selected a member, who has a great respect for all animals and insects, to be responsible for the care and maintenance of the hive. This young man organized his team in constructing a bee box for the hive. The bees were incorporated into the Wagram Community Garden in the fall and the youth and volunteer beekeeper are feeding the hive through the winter.
The youth visited NC A&T State University for a guided campus and farm tour. This was an important day. These young men do not have people in their lives that attended college, and can guide them in the resume building and college application process. Care was taken by NC A&T State University staff to put people in place to encourage and motivate these young men throughout the day. Following this visit, the young men began to realize that with focused effort, college could become a reality in their future. The youth returned to NC A&T State University in the spring of 2013 to lead a panel discussion on youth entrepreneurship at the Grassroots Leadership Conference. During the panel discussion, the team shared their individual stories and showcased their work in the county. Two years ago, these youth would not have been comfortable (or invited) to participate in an event like this. However, through their involvement in the Cooperative Extension programs, trainings and leadership development opportunities, their confidence and self-efficacy has blossomed. One powerful moment came when one of the young men shared that his family name had a negative reputation in the county. He was always told he would follow in the footsteps of his family members. He shared that he was most proud of the fact that through his continued hard work and focused efforts, he will flip his future and prove many people wrong.
The youth team has visited NC State University on several occasions, one of which was to attend a vermi-culture workshop leading to the group producing their own vermi-compost. One of the youth members established a personal vermi-culture business, for which he was honored as the youngest panelist at the Rural Center of North Carolina's symposium on youth entrepreneurism. Another educational experience was provided through a weeklong NC State University horticulture camp. This camp provided the youth a broad hands-on opportunity to explore horticulture by learning about: fruit and vegetable breeding practices, growing of woody ornamentals, cut flowers, and sustainable production practice and plant production. Additionally, the camp included visits to local horticulture businesses, which provided an opportunity for the youth to have first hand exposure to career possibilities. The training not only provided the youth with tools to assist them in their gardening efforts, but with the majority of them having traveled no more than a two county distance, the camp allowed them to experience life on a major university campus.
The group has also learned the importance of community service and the rewards of making a difference in the lives of others. The team recently collaborated with the faith-based Partners In Health and Wholeness to present an organic gardening workshop to sixty church youth from a six county region. The youth have seen first-hand elderly gardeners moved to tears when they offered to assist them in their garden plots. They have provided landscaping improvements for both community gardens and prepared the garden beds for a local elementary school. Additionally, living the value of "re-use", they worked with school leadership to plant and manage the high school greenhouse to prevent it from lying dormant during the summer months. This is a crucial moment for these youth to be in such positions that community members actively praise them. Many of these youth had never been in our local paper, nor recognized for any accomplishments. These positive experiences and opportunities have become a clinical tool to help parents reconnect to pride in their sons.
These young men were headed to prison but "flipped" this future to become today's leaders. Now they are the youth leadership in the larger initiative to flip a small closed prison in Wagram, North Carolina. On December 9th, 2013 on the 14th floor of Raleigh's Archdale building, two of the growingchange.org youth members shared the plan to convert the Wagram prison into a sustainable farm and educational center to Department of Public Safety's (DPS) Executive Leadership Team. DPS approved the plan and testing funded by a $200,000 EPA grant will begin in March. The Wagram prison site flip will be a national first per EPA.
In August, the NC State University School of Design students will begin to develop a site model. Youth once gang recruited and who were on probation are now leading DPS in developing a nationally innovative and replicable model. This team is "flipping" prominent county environmental hazards into one of the county's most productive environmental assets.
"Annual costs for involvement by the Juvenile Youth Development Center (YDC) is $102,000 per youth. Initially the nine youth were one step away from a YDC commitment. However, with all nine youth avoiding incarceration, the state realized a potential $918,000 in annual savings".
(Currently there are two decorated war veterans that are part of the coalition to flip the prison. However, when the sustainable farm and agriculture center is completed, it will be open to all veterans, both combat and non-combat, who are pursuing their college education.)
Was the information on this page helpful?